European Fishmeal Conference Skagen, Denmark, June 1st – 3rd 2022
2021.3.26
The next Biennial Conference and Annual General Assembly of European Fishmeal will take place in Skagen, Denmark, June 1st – 3rd 2022.
The program will start with a full-day excursion to Europe's largest producer of fishmeal and fish oil, FF Skagen A/S, Skagen Harbour and Karstensens Shipyard, Denmarks largest shipyard.
The conference will begin Thursday morning and the overall theme will be "Sustainability & Control". The day will involve high level political and technical debates and will be rounded off with the traditional festive gala dinner.
The last day will be reserved for an interesting technical session, where our associate members will be invited to present and other industry representatives will provide inspiration and cross-sector knowledge.
If you have any questions do not hesitate to contact Daniel at dw@maring.org.
Please note that the deadline for registration is Friday, April 15 2022. 
The fee for participation is 600 Euro per person (half price for spouses). Invoices for participation will be sent directly to the factories/associated members when the registration is complete.
You do not need to book hotel rooms, but all participants will pay for their own room by departure. Travel arrangements must be arranged individually.
Best regards,
EFFOP secretariat
The EU fishing fleet 2020: Trends and economic results
2021.3.22
The European Commission "Maritime Economic Papers" have released its 48 pages long economic report on the EU fishing fleet. We have gathered the highlights here:
"The EU large-scale fleet (LSF) comprised 14 047 vessels in 2018 and employed 61 000 fishers, respectively 24 % and 45 % of the EU total. This fleet contributed 79 % of total EU landings by weight and 70 % of the value of such landings. Overall, the performance of the EU fleet is largely driven by that of the LSF."
Compared to 2017, the EU's large scale fishing fleet experienced a decrease in all economic parameters ( see the table below), thus continuing the downward trend observed in 2017. However, different to 2017, all EU Member State LDFs made a gross profit in 2018.
The report point towards an increase in the depreciation costs, increased fuel prices, and a decrease in landed quantities as important causes of the lower profits.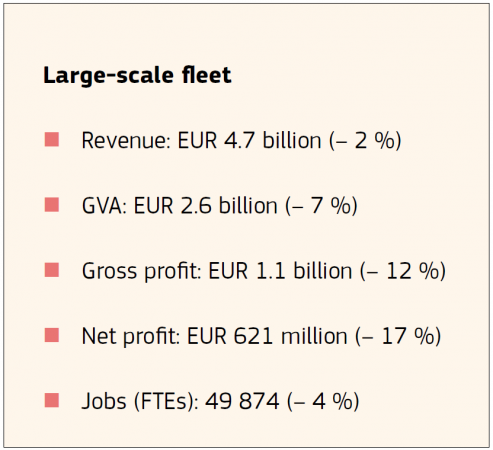 The gross profit of the large scale fishing fleet has climbed 35 per cent since 2008 and overperformed the small scale coastal fishing fleet systematically. This is, according to the report, partly due to technological development in the vessels:
"Large scale fishing vessels are becoming larger and faster, and are travelling farther from their homeports. Their investment capacity is higher and they use more sophisticated (and expensive) technologies than the small scale coastal fishing vessels, catching more fish in shorter periods of time."
Small pelagic fisheries and responsible sourcing
2021.3.19
MSC recently publicized a briefing on small pelagic fisheries and the importance of certification – read the briefing here.
Small pelagic fisheries – or forage fisheries – often target species known as low trophic level species close to the bottom of the marine food chain. In Europe, they include 'forage fish' such as sandeel, sprat, Norway pout, herring, and capelin but also invertebrate species such as krill.
Due to their population biology and life history traits (fast growing, highly productive and short lived) these species are resilient to fishing pressures if catches are well-managed.
In Europe, small pelagic fisheries used for fishmeal and fish oil production are well-managed, based on scientific advice from ICES,  and they are MSC or MarinTrust certified or in process to become certified.
More information on sustainability and responsible sourcing here.
EU International Ocean Governance Forum 2021
2021.3.18
The European Commission in association with the European External Action Service invites ocean stakeholders worldwide to the presentation of the final recommendations for ocean sustainability action by the Eu's International Ocean Governance (IOG) Forum.
The event will take place in a virtual format at 14-17hrs (CEST) on April 20, 2021.
The event will mark the conclusion of the open and inclusive consultation process on International Ocean Governance launched by the European Commission in association with the European External Action Service in 2020 with the establishment of the IOG forum. Further information on the consultation and the Forum can be found here.
The recommendations will support the development of the International Ocean Governance Agenda –the EU's plan of action for the future of our oceans. The Agenda is an integral part of the European Green Deal and the EU's response to the United Nations' 2030 Agenda for Sustainable Development, in particular, the Sustainable Development Goal 14 'to conserve and sustainably use the oceans, seas and marine resources'.
Registration is open and can be done here. Registration deadline is April 19, 2021 midnight CEST.
A draft agenda can be downloaded here or found below.
Agenda
 Time (CEST)

Session

Speaker

14:00

Welcome

Charlina Vitcheva, Director General, Directorate General for Maritime Affairs and Fisheries, European Commission

14:05

Accelerating action for ocean sustainability

Virginius Sinkevičus, European Commissioner for Environment, Fisheries and Maritime Affairs

14:15

Unfolding the ocean and climate nexus: the US perspective

John Kerry, U.S. Special Presidential Envoy for Climate (tbc)

14.25

Shaping Zanzibar's blue future

Aboud S. A. Jumbe, Principal Secretary of the Ministry of Blue economy and Fisheries (tbc)

14:35

Reversing marine biodiversity decline: China on the way to CBD COP 15

(tbc)

14:45

Health Break

15:00
Moving towards a sustainable blue planet –recommendations for future actions

IOG Forum representative (tbc)

15:20
Panel I – Are we steering the right course?

Sigrid Lüber, Co-Managing Director, Ocean Care (tbc)
Karin Kemper, Global Director for Environment, Natural Resources and Blue Economy, World Bank (tbc)
Nadia Pinardi, University of Bologna (tbc)
Jakob Granit, Chair, Commission for the Conservation of Antarctic Marine Living Resources (CCAMLR) (tbc)

Questions/Answers

16:00
Panel II – The EU's all crew on deck approach

Charlina Vitcheva, Director General, Directorate General for Maritime Affairs and Fisheries
Veronica Manfredi, Director Quality of Life, Directorate General for Environment
Koen Doens, Director General, Directorate General for International Partnerships
Jean-Eric Paquet, Director General, Directorate General for Research and Innovation
Matthias Petschke, Director Space, Directorate General for Defence Industry and Space
Magda Kopczynska, Director Waterborne, Directorate General for Mobility and Transport

Questions/Answers

16:40
Future Ocean Governance –a Vision from Portugal

Ricardo Serrão Santos, Minister of Maritime Affairs, Portugal (tbc)

16:50
Bringing in the foreign policy angle
Kristin de Peyron, Deputy Managing Director, Human Rights, Global and Multilateral Affairs, European External Action Service

17:00
Closing
Charlina Vitcheva, Director General, Directorate General for Maritime Affairs and Fisheries, European Commission
European Fishmeal Biennial Conference 2021: Control and sustainability
2021.3.12
Every other year, the Association of European fishmeal and fish oil producers, EFFOP, brings its members and associated members together for a conference. This year Denmark will host the conference and it is planned for Skagen 25-27 August.
When we once again gather the the wider European fishmeal and fish oil industry and suppliers from member companies across UK, Ireland, Denmark, Iceland, Norway, Spain, Faroe Islands, Estonia, Sweden and the Czech Republic the theme will be control and sustainability.
We will kick off the conference with an exciting excursion to experience Europe's largest fishmeal and fish oil producer, FF Skagen A/S and Karstensens Shipyard, Denmarks largest shipyard. The day will be rounded off with our annual general assembly before a nice dinner in Skagen. 
Thursday is reserved for presentations and debates from scientific experts, decision-makers and key stakeholders on issues such as control, certification and sustainability. To round the day off, we have planned a high-level panel debate on control and resource management, where MEP's and Ministers are asked about their take on control of landings and management of our shared resources. Thursday evening is reserved for our traditional festive gala dinner.  
Friday our many associated members will present their state of the art solutions in fishmeal production. Finally, we have invited some of the leading producers in the Danish ingredients sector to inspire us with new and different perspectives. 
Members can register by logging on to the EFFOP's members page.
If you have any issues registering for the conference, feel free to contact Daniel Weber, dw@maring.org 
The biennial conference is restricted to members only. If you, as a journalist or stakeholder wish to participate on Thursday the 26th, please contact the secretariat at effop@maring.org.
FISHMEAL AND FISHOIL – Strategic and sustainable marine ingredients
2021.3.3