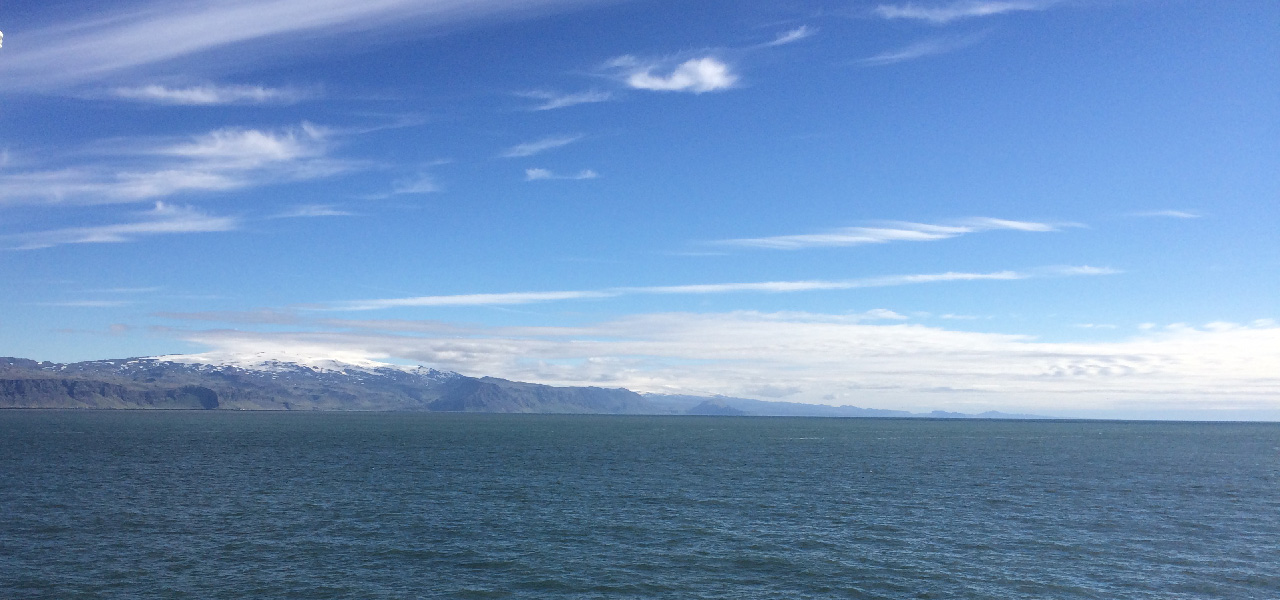 Aquaculture to continue leading the growth in production – OECD-FAO Agricultural Outlook 2022–2031
2022.8.8
The OECD-FAO Agricultural Outlook provides an assessment of the prospects of national, regional and global agricultural commodity markets over the coming decade.
Regarding the fishing sector, EFFOP has gathered some of the main highlights of the report here: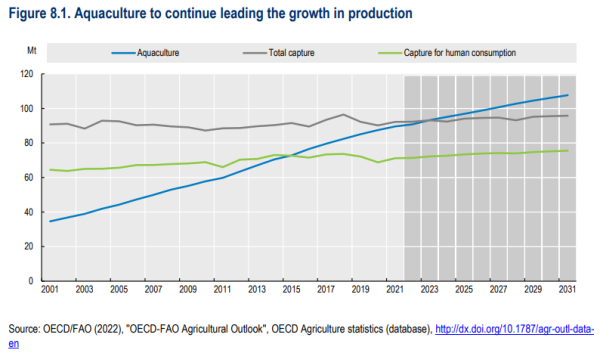 A steady growth and movement towards aquaculture can be expected. Fish consumption is projected to keep rising at a faster rate than meat consumption over the next decade (1.4% p.a. for fish vs 1.0% p.a. for meat). Apparent food fish consumption globally is projected to reach 21.4 kg per capita in 2031, up from 20.5 kg per capita in the base period (average 2019-2021).
Responses to the pandemic may have lasting structural effects on the sector. The last two years saw a major shift in consumer patterns. Habits and innovations developed during the
lockdowns, such as a renewed interest in home cooking, a general pivoting towards retail, the proliferation of home delivery services, a strong focus on digital marketing and an increase in e-commerce sales, may have major long-term structural impacts on the sector.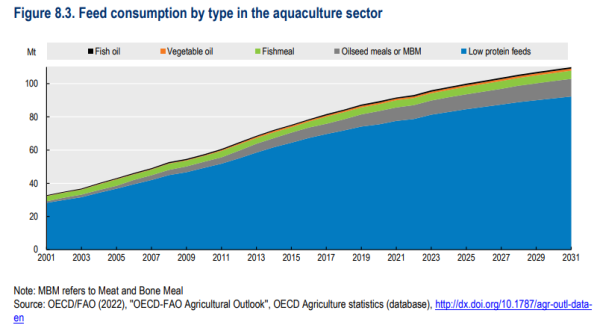 Buoyant prospects for consumption as fish are nutritious foods that contribute to healthy diets. The driving force behind the growth in food fish consumption will be a combination of rising incomes and urbanisation, expansion of fish production, improved distribution channels, and product innovation.
Aquaculture will overtake capture fisheries production in 2023 and account for 53% of all fish production by 2031. Several factors are driving the slower projected growth in aquaculture production. Firstly, the cost of feed was relatively low from 2013 to 2019 leading to higher profits for producers. Secondly, the aquaculture to feed price ratio will remain below 2019 levels until 2025 due to the high price of feed during the first half of this coming decade. There are several other factors contributing to the slower aquaculture production growth including slower gains in productivity; more stringent environmental regulations in the world's largest producers, most notably China; and challenges building new production facilities due to competition for land.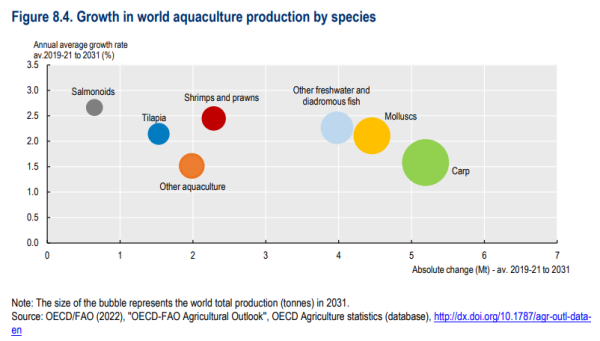 Trade in fish and fish products will be sluggish. Over the projection period, international fish trade is expected to expand but at a rate significantly lower than the one observed in the previous decade. This slowdown reflects relatively fewer opportunities for expansion into new markets and stronger domestic demand in some of the major producing countries who traditionally supplied affluent economies.
Prices are expected to remain high during the coming decade. International fish prices were 7.0% higher in 2021 than 2020 according to the FAO Fish Price Index. More generally, fish prices are expected to grow in nominal terms over the projection period and remain high relative to historic levels. However, in real terms the prices of all categories are expected to decline except for aquaculture, where a stagnation is projected.
Volatility in energy markets, management practices, and environmental policies could have significant impacts on the fisheries sector. One of the major uncertainties is Russia's war against Ukraine that impacts on global value chains and trade, which are still recovering from the COVID19 pandemic. A major unknown factor for the projections is the magnitude of the rise in production and distribution costs over the next decade and their effect on overall inflation. Wars, shocks to oil prices, pandemics, trade sanctions, pollution and climate change and extreme weather events all point to higher production costs in the fisheries sector as a whole.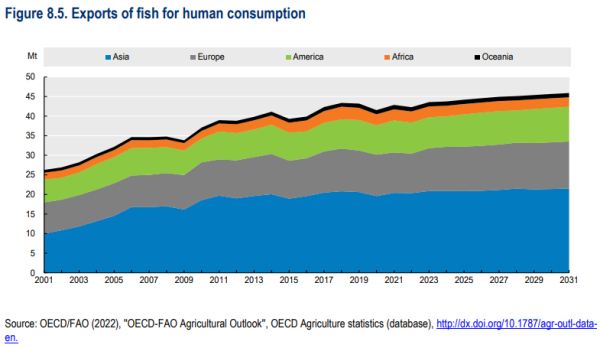 You can find the whole report here.