Webinar Takeaways: Searching for Unknown Growth Factors in Fishmeal
2022.8.23
In Focus Webinar – Searching for unknown growth factors in fishmeal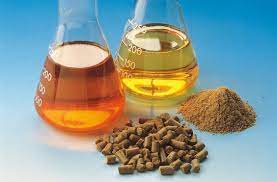 On the 10th of August, two experts with 25 years of experience each in the feed sector, discussed their knowledge on fishmeal and feed in order to identify the unknowns and gaps of knowledge that are still to be explored.
The evolution of feed from 30 years ago has been great, from fishmeal inclusion rates of 50-70% to now where levels are greatly reduced to fishmeal being used as a strategic and functional ingredient, and no longer a major ingredient in terms of their inclusion levels. There are studies published constantly on fishmeal replacement but as Bureau noted "it's not about replacement but effective inclusion, about knowing what the animal requires. Fishmeal is no longer a dominant ingredient and other replacement ingredients are often more expensive and less sustainable."
Another common point of confusion is seeing fishmeal, or any other ingredient, as a single product. There is huge variability between differently sourced fishmeals, allowing their strategic use to be identified and tailored. Glencross noted that "research papers often fail to mention the grade of fishmeal used, we need to understand the diversification of the product. Marine ingredients industry is becoming a bespoke sector selling a specialist strategic ingredient."
Looking at reducing fishmeal inclusion rates in feed, Bureau referenced a previous study with rainbow trout, which showed that reducing fishmeal reduced growth rates, and without animal proteins at all, the fish were simply not growing as fast, and they performed considerably lower than commercially grown fish. Without fishmeal the full growth potential of the animal was not reached.
You can read more about it and listen to the full webinar here.
EU Bioeconomy Conference 2022
2022.8.18

Between the 6 and 7 October 2022, a high-level conference named 'The Bioeconomy – Enabling the European Green Deal in Challenging Times' will take place in the Charlemagne building in Brussels. All sessions will be live-streamed to allow everyone to get involved from anywhere.
The conference will focus on the findings of the EU Bioeconomy Strategy Progress Report, adopted in June 2022 and the role of bioeconomy policy to enhance policy coherence and system thinking. A series of bioeconomy success stories from EU research and innovation will be presented, alongside evidence for a successful implementation of the EU Bioeconomy Strategy. There will also be an opportunity to discuss how the bioeconomy can help to better manage certain trade-offs, by addressing the question of how increasing biomass demand for energy and industrial needs can be matched with increasing climate and biodiversity objectives.
Bioeconomy encompasses all sectors and associated services and investments that produce, use, process, distribute or consume biological resources, including ecosystem services. From the food we eat to the furniture in our house and the clothes we wear, the bioeconomy, as one of the Union's largest sectors, is already present in our daily lives. Bioeconomy can be the natural enabler and result of the European Green Deal transformation.
EFFOP Biennial Conference 2022 – Presentations
2022.8.11
Economic Report on the Fish Processing Industry (STECF)
2022.8.10
Download and read the report here
This report contains the 2021 economic report of the EU fish processing sector, covering the period 2008 to 2019 (for some MS 2020) and includes information on the EU fish processing industries in terms of number of enterprises, employment, income and costs. The profitability and performance of the sector is also reported in terms of gross value added, profits, profit margins and labour productivity. In 2019, the sector was made up of about 3,200 firms, provided about 111,000 jobs and produced a turnover of €28.5 billion.
For the second time the analysis of the socio-demographic aspects of the labour forces employed by the sector is provided, in terms of gender, age, nationality and educational aspects. The report provides an in depth look of the different factors affecting the economic performance of the EU fish processing industry with a special focus on the major drivers and issues affecting the sector as well as an outlook on the main future trends. Considering what has happened in the last two years, since the previous report, and following a specific request of the Commission, the report provides a first attempt of assessment of the impact that the spread of Covid-19 throughout the world has had on the EU fish-processing sector.
EUROFISH Magazine on EFFOP 2022 Biennial "Comprehensive Insight into Sustainable Industrial Fisheries"
2022.8.9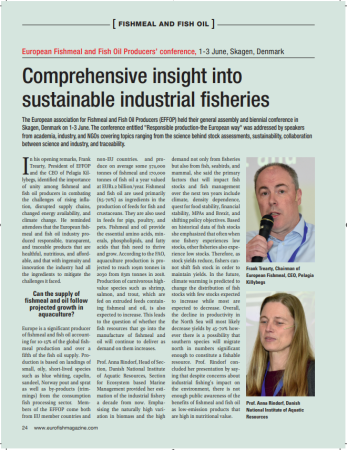 Aquaculture to continue leading the growth in production – OECD-FAO Agricultural Outlook 2022–2031
2022.8.8
The OECD-FAO Agricultural Outlook provides an assessment of the prospects of national, regional and global agricultural commodity markets over the coming decade.
Regarding the fishing sector, EFFOP has gathered some of the main highlights of the report here: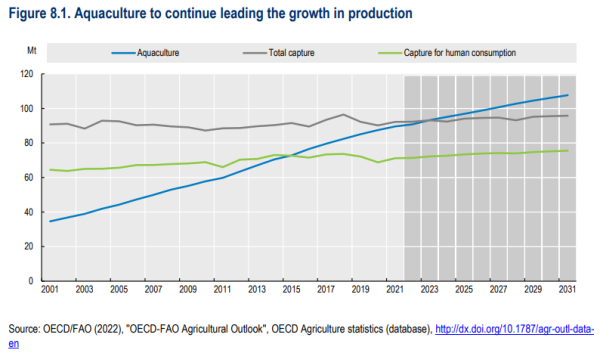 A steady growth and movement towards aquaculture can be expected. Fish consumption is projected to keep rising at a faster rate than meat consumption over the next decade (1.4% p.a. for fish vs 1.0% p.a. for meat). Apparent food fish consumption globally is projected to reach 21.4 kg per capita in 2031, up from 20.5 kg per capita in the base period (average 2019-2021).
Responses to the pandemic may have lasting structural effects on the sector. The last two years saw a major shift in consumer patterns. Habits and innovations developed during the
lockdowns, such as a renewed interest in home cooking, a general pivoting towards retail, the proliferation of home delivery services, a strong focus on digital marketing and an increase in e-commerce sales, may have major long-term structural impacts on the sector.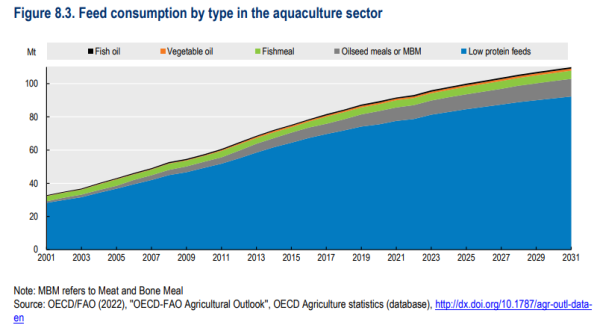 Buoyant prospects for consumption as fish are nutritious foods that contribute to healthy diets. The driving force behind the growth in food fish consumption will be a combination of rising incomes and urbanisation, expansion of fish production, improved distribution channels, and product innovation.
Aquaculture will overtake capture fisheries production in 2023 and account for 53% of all fish production by 2031. Several factors are driving the slower projected growth in aquaculture production. Firstly, the cost of feed was relatively low from 2013 to 2019 leading to higher profits for producers. Secondly, the aquaculture to feed price ratio will remain below 2019 levels until 2025 due to the high price of feed during the first half of this coming decade. There are several other factors contributing to the slower aquaculture production growth including slower gains in productivity; more stringent environmental regulations in the world's largest producers, most notably China; and challenges building new production facilities due to competition for land.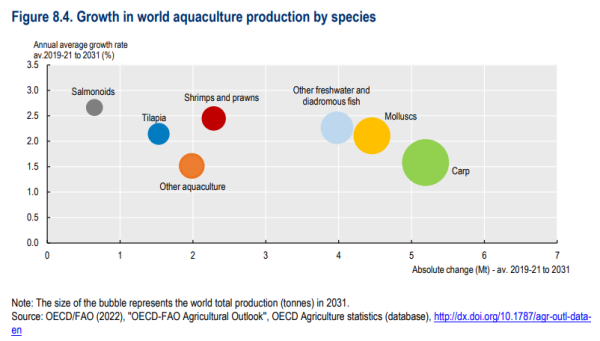 Trade in fish and fish products will be sluggish. Over the projection period, international fish trade is expected to expand but at a rate significantly lower than the one observed in the previous decade. This slowdown reflects relatively fewer opportunities for expansion into new markets and stronger domestic demand in some of the major producing countries who traditionally supplied affluent economies.
Prices are expected to remain high during the coming decade. International fish prices were 7.0% higher in 2021 than 2020 according to the FAO Fish Price Index. More generally, fish prices are expected to grow in nominal terms over the projection period and remain high relative to historic levels. However, in real terms the prices of all categories are expected to decline except for aquaculture, where a stagnation is projected.
Volatility in energy markets, management practices, and environmental policies could have significant impacts on the fisheries sector. One of the major uncertainties is Russia's war against Ukraine that impacts on global value chains and trade, which are still recovering from the COVID19 pandemic. A major unknown factor for the projections is the magnitude of the rise in production and distribution costs over the next decade and their effect on overall inflation. Wars, shocks to oil prices, pandemics, trade sanctions, pollution and climate change and extreme weather events all point to higher production costs in the fisheries sector as a whole.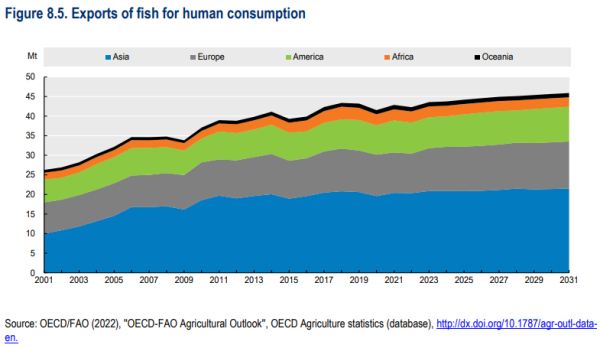 You can find the whole report here.