Ecologically and economically sustainable mesopelagic fisheries (MEESO)
2020.6.30
European Fishmeal is partner of the MEESO project funded by the EU Horizon 2020. In the MEESO project, researchers look—together with the industry—into whether organisms living deep in the oceans can be exploited in an ecologically and economically sustainable way.
European Fishmeal participates in Work package 3: "Development of sustainable catch and processing methods towards feasible products". This work package will identify and implement the best solutions for total utilization of the mesopelagic catch. Efficient and sustainable catch technologies and post-harvesting processing will be paired with product development. The work will be performed by industry and academic experts in collaboration with all stakeholders.
Read about the MEESO project at the website: click here
Fish In:Fish Out ratios (2020)
2020.6.29
FIFOs (Fish In:Fish Out ratios) have been used over time as a way to look at the performance of aquaculture in relation to the wild fish utilized in feed. FIFO is regarded by some as a benchmark of progress by the sector in relation to its environmental performance click here. Recently a more sophisticated way of looking at FIFOs has been reported by IFFO (the international trade organisation representing the marine ingredients industry worldwide). IFFO commissioned a project with Dr Richard Newton looking at the FIFO concept in more detail. Key findings from this project included:
When marine ingredients are used efficiently, they can produce as much fish through aquaculture as could be achieved via direct consumption;
Fishmeal and fish oil (FMFO) contain many important nutrients for their use in aquafeed, of which contributions to palatability and digestibility are especially important;
Different farmed fish species show variable edible yield proportions, tis is why there are  different efficiencies in FMFO utilisation in aquafeed from a food production perspective;
Although considerable progress has been made, the use of byproducts as raw material in FMFO production can still be improved. Achieving this over time supports additional food production;
Usually most value can be added by directing by-product fractions to food (via feed) but some non-food applications are also valuable uses of by-products (e.g. chitosan and nutraceuticals);
For more information click here.
Major review of the EU's trade policy
2020.6.22
On 16 June, the European Commission launched an extensive review of the European Union's trade policy. The review is a part of a major recovery plan for both economic and social damage following the Corona Crisis, and potential adjustments will be made to kick-start the European economy as well as protect and create jobs. The review will seek to ensure that the trade policy continuously serves the European citizens and companies in a changing global economy. At European Fishmeal, we warmly welcome the review and support the continuous trade collaboration both in Europe and internationally.
The review includes a public consultation where the European Union asks for input from different stakeholders such as the European Parliament, Member States, and civil society. This is done to reach a broad consensus about a new direction for the EU trade policy which will include the lessons learned as a result of the coronavirus pandemic as well as seek to respond to future global challenges.
Read more about the new EU trade policy review here.
World Fisheries and Aquaculture – Sustainability in action
2020.6.10
The FAO State of World Fisheries and Aquaculture was released, quite fittingly, on World Oceans Day, June 8. With the subtitle "Sustainability in action" the report captures the overall theme in the current aquaculture industry. 
In the report, FAO states that "fishmeal and fish oil are still considered the most nutritious and most digestible ingredients for farmed fish, and fish oil represents the richest available source of long-chain polyunsaturated fatty acids (PUFAs), which perform a wide range of critical functions for human health. However, their inclusion rates in compound feeds for aquaculture have shown a clear downward trend (…)."
In 2018, about 88% (156 million tonnes) of world fish production was utilized for direct human consumption. The remaining 12 % (22 million tonnes) was used for non-food purposes, of which 82 % (or 18 million tonnes) was used to produce fishmeal and fish oil.
Global fish production is estimated to have reached about 179 million tonnes in 2018 ( Figure 1), with a total first sale value estimated at USD 401 billion, of which 82 million tonnes, valued at USD 250 billion, came from aquaculture production. Of the overall total, 156 million tonnes were used for human consumption, equivalent to an estimated annual supply of 20.5 kg per capita. The remaining 22 million tonnes were destined for non-food uses, mainly to produce fishmeal and fish oil. Aquaculture accounted for 46% of the total production and 52% of fish for human consumption.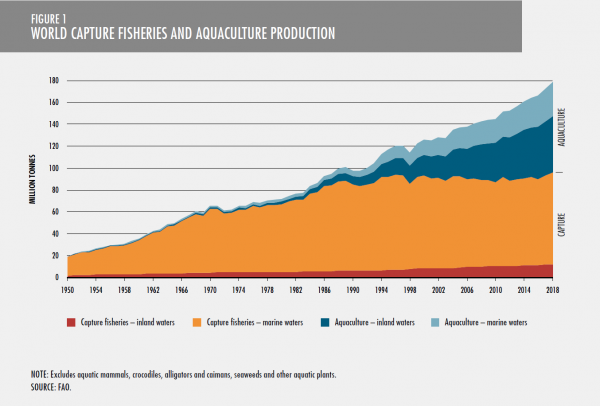 Looking ahead, under the assumption that a post-COVID-19 recovery will hit in late 2020 or early 2021, world fish production, consumption and trade is expected to increase, but with a growth rate that will slow over time. Total fish production is expected to expand from 179 million tonnes in 2018 to 204 million tonnes in 2030. Aquaculture production is projected to reach 109 million tonnes in 2030, an increase of 32 percent (26 million tonnes) over 2018. 
In terms of species, the majority (62 %) of global aquaculture production in 2030 will be composed of freshwater species, such as carp and Pangas catfish (including Pangasius spp.), as compared with 60% in 2018. Production of higher-value species, such as shrimps, salmon and trout, is also projected to continue to grow. In general, species that require larger proportions of fishmeal and fish oil in their diets are expected to grow more slowly owing to expected higher prices and reduced availability of fishmeal.
FAO The State of World Fisheries and Aquaculture 2020
2020.6.9
World Oceans Day: a Journey of a thousand miles
2020.6.8
Since 2008 the 8th of June has officially been recognized as World Ocean Day and today is a good day to take stock of of how far we have come – and the road ahead of us.
In the North Atlantic the number of stocks fished sustainably  has increased from 26% to 62% since 2008, when the World Oceans Day was officially recognized by the UN. Although further improvements are still necessary, the past years developments show that most stocks are well managed  – especially in the North-East Atlantic Ocean and Baltic Sea ( 62.5 – 87.5 % of stocks meet at least one of the good environmental status criteria in these regions)
Looking forward Anne Mette Bæk Managing director of European Fishmeal says;
"Sustainability is a key factor for the European fishmeal and fish oil industry and our continued focus on traceability and responsible sourcing is one of the key drivers in securing that our oceans are taken good care of in the future"
A journey of a thousand miles begins with a single step, and in European Fishmeal we celebrate World Oceans Day be looking back at the steps made already, and ahead towards those yet to come.