EU's Biodiversity Strategy for 2030 – Will it be a big deal for our seas and our fish?
2020.5.28
Released on May 20, the EU's 2030 Biodiversity Strategy is the "ambitious long-term plan for protecting nature and reversing the degradation of ecosystems", promising that at least 30% of Europe's sea area will be transformed into effectively managed protected areas, and limits placed on the use of bottom trawling fishing gear.
The Strategy and the question "Will it be a big deal for our seas and our fish?"  were recently debated by Bernhard Friess, Director-General at the European Commission DG Mare, Daniel Voces, Managing Director at Europeche, and Monica Verbeek, Executive Director at Seas at Risk.
European Fishmeal welcomes the strategy and followed the debate.
 See and listen to the debate in a YouTube video – click here.
To read the EU Biodiversity Strategy for 2030 and an associated Action Plan – click here
Main fisheries related elements of the Strategy:

The Strategy contains specific commitments and actions to be delivered by 2030, including:
Establishing a larger EU-wide network of protected areas on land and at sea, building upon existing Natura 2000 areas, with strict protection for areas of very high biodiversity and climate value.
The Commission will also propose a new action plan to conserve fisheries resources and protect marine ecosystems by 2021. Where necessary, measures will be introduced to limit the use of fishing gear most harmful to biodiversity, including on the seabed. It will also look at how to reconcile the use of bottom-contacting fishing gear with biodiversity goals, given it is now the most damaging activity to the seabed. This must be done in a fair and just way for all. The European Maritime and Fisheries Fund should also support the transition to more selective and less damaging fishing techniques.
Healthy fish stocks are key to the long-term prosperity of fishermen and the health of our oceans and biodiversity. This makes it all the more important to maintain or reduce fishing mortality at or under Maximum Sustainable Yield levels. This will help achieve a healthy population age and size distribution for fish stocks.
The by-catch of species threatened with extinction must also be eliminated or reduced to a level that allows full recovery. This should also be the case for those in bad conservation status or not in good environmental status. Furthermore, the by-catch of other species45 must be eliminated or, where this is not possible, minimised so as not to threaten their conservation status. To support this, data collection on by-catch for all sensitive species needs to be stepped up.
In addition, fisheries-management measures must be established in all marine protected areas according to clearly defined conservation objectives and on the basis of the best available scientific advice.
Mesopelagic fishing shows great potential
2020.5.25
Mesopelagic fish are the small species of fish that live between 200 and 1000 meters deep in the water. Today, mesopelagic species have only been remotely exploited and they represent a large potential fishery resource. However, there has been a growing interest in these species since 2015, and new Norwegian studies from 2019 have found that approximately 1500 tonnes of salmon, herring and krill were caught in the trial fishing along the west side of the Norwegian Sea. It is recognized that such numbers of mesopelagic catches are quite new in Norway.
A previous concern has addressed whether it would be possible to catch profitable quantities of mesopelagic species as the biomass was expected to be thinly distributed across large areas. However, experimental fisheries have shown that it is possible to catch some mesopelagic species in reasonably large quantities. This is considered a good starting point for further research on technology and biomass estimation.
The new research has also investigated the nutritional contents of these mesopelagic species. It was found that the species contain high levels of micronutrients such as vitamin A, calcium, selenium and omega 3 fatty acids. The researchers recognize that mesopelagic resources may be a solution to some local nutritional challenges due to the great global availability of the species. Though it is acknowledged that it is unlikely that humans will start to eat a lot of mesopelagic species in the near future, these species still present an interesting feed resource and they are thus a very interesting new resource for the fishmeal and fish oil industry.
Source: The Norwegian Institute of Marine Research (Havforskningsinstituttet).
European Fishmeal is partner of the MEESO project – "Ecologically and economically sustainable mesopelagic fisheries (MEESO)". Read more about the project here.
Online webinars for IFFO members
2020.5.18
Update, 8 June: The webinars have been held and you can read more about how to access the webinars here.
IFFO invites all their members to attend two online webinars on Wednesday 27 May at 14.00 (UK time). IFFO has had to cancel their 2020 Members' Meeting because of the COVID-19 pandemic and will instead hold the two webinars. Both webinars will be in English.
The first webinar is called "Update for members" and all members of IFFO can attend. It will begin at 14.00 (UK time). You can register for the webinar here: https://us02web.zoom.us/webinar/register/WN_og0OP4y8SzOAQJ49oY_0Bg
The second webinar is called "Supply of marine ingredients" and only Producer members and Premium members can attend this meeting. It will begin at 15.50 (UK time). You can register for the webinar here: https://us02web.zoom.us/webinar/register/WN_C3fNiFaGRC6T4MrA_f5nAQ
Programme, Webinar 1: Update for members
14:00 – 14:10
Opening remarks

Petter Martin Johannessen, Director General, IFFO, U.K.

14:10 – 14:40
Update on China

Maggie Xu, China Director, IFFO, China

14:40 – 14:55
Update on Communications

Veronique Jamin, Communications and External Relations Director, IFFO, U.K.

14:55 – 15:15
Technical Update – Regulation and Projects

Dr Neil Auchterlonie, U.K.

15:15 – 15:30
Update on MarinTrust

Libby Woodhatch, Executive Chair, MarinTrust, U.K.

15:30 – 15:35
Closing remarks

Petter Martin Johannessen, Director General, IFFO, U.K.
Programme, Webinar 2: Supply of marine ingredients
15:50 – 16:15
Fishmeal and fish oil global trends

Dr Enrico Bachis, Market Research Director, IFFO, U.K.
If you want to attend the webinars, register with your business email address before the deadline for registration on 25 May.
New report anticipates future increases in fishmeal and fish oil prices
2020.5.14
The EU funded CERES project has investigated how climate change is affecting different European fish/shellfish species – and how Europe's fishermen and fish farmers can adapt to climate change in the future.
The CERES project's synthesis report is now available for everyone to read: CERES synthesis report (PDF, 18MB)
The report focuses on the most commercially valuable fish and shellfish to identify the risks, opportunities, and uncertainties of climate change for Europe's fishery and aquaculture communities.
Climate change influence both fisheries and aquaculture by, for example, impacting the global trade of fishmeal and fish oil used in aquaculture feeds. Decreased supply of small pelagic fish in other parts of the world such as the Peruvian anchovy could result in substantially higher prices for fishmeal and fish oil, which could markedly increase production costs for certain farmed species. Higher fish prices are predicted also because of higher demand for fish in the future, which may lead to substitution of fish with other sources of protein (e.g. poultry or vegetable proteins).
Among the scenarios, the highest prices for fishmeal (€2,282 tonne-1) and fish oil (€1,921 tonne-1) were obtained in National Enterprise (NE), followed by Local Stewardship (LS) (Fig. 6.1 – see below).
Several research priorities were identified by the CERES project e.g. technological advances in the development of new feeds will make the aquaculture industry less sensitive to climate-driven shocks in the availability of feedstuffs from aquatic (e.g. fishmeal and fish oil) and terrestrial sources.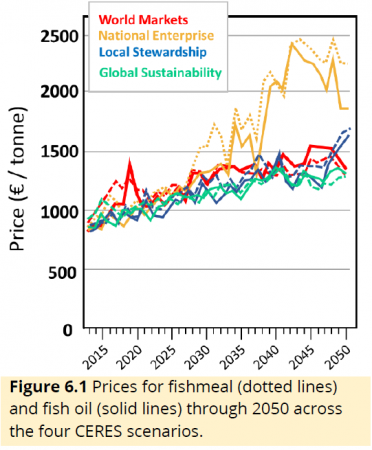 New STECF research shows a positive trend in fish stocks
2020.5.14
The European Scientific, Technical and Economic Committee for Fisheries (STECF) recently published a research paper suggesting that the number of stocks fished outside of safe biological limits has declined intensively since 2003.
Every year the European Commission asks the independent Scientific, Technical and Economic Committee for Fisheries (STECF) to compute a series of performance indicators on the progress on achieving maximum sustainable yield and on the situation of fish stocks.
The report indicates that completely sustainable fishing is within reach.
Highlights from the report:
Since 2003, in the greater North Sea, an increase of 56% of all stock is fished sustainably [1]
Both in the Greater North Sea and in the Baltic Sea, the number of stocks fished outside of the state of biological limits is halved since 2003. [2]
The fishing pressure in the Baltic Sea and the Greater North Sea has gone down 0.65 and 0.46 points respectively (Se table 12 below), thus indicating an impressive decline since 2003. Baltic Sea and the Greater North Sea are, however, the only two EcoRegions with an F/FMSY trend above 1.

A positive trend
One of the primary objectives of STECF is to provide a "Stock status in the NE Atlantic", in which the percentage of stocks that are either overfished or outside of safe biological limits is accounted for (see below).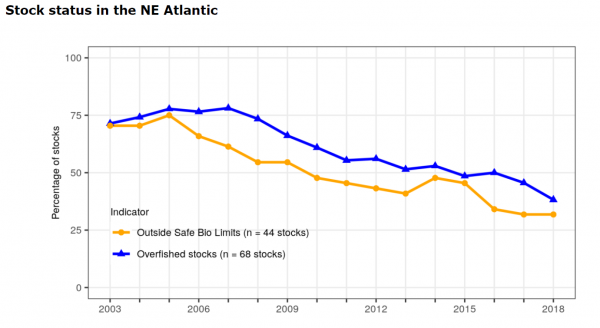 Asked for a comment on the stock status and the research paper, Managing Director of European Fishmeal Anne Mette Bæk says:
"The positive trend since 2003 shows the dedication of the fishers to meet their responsibility. I am very pleased that we are heading in the right direction and this trend supports our full commitment to responsible sourcing."
Read the full STECF publication
[1] Table 6, p. 27
[2] Table 8, p. 28
Norway doubles quota for sandeel
2020.5.14
The Institute of Marine Research (IMR) now recommends sandeel fishing up to 250,000 tons based on the current harvesting rule. This is twice the amount of last year's quota and an update of the advice given earlier this year, which amounted to 110,000 tons.
Research biologist Espen Johnsen states that:
"This year's research survey went very well with good weather and good working conditions. We have never seen so many fish and estimate that the spawning stock size is significantly larger than what we have observed over the past two decades".
Some of the positive findings were:
The sandeel was distributed among the southern sandeel fishing banks.
Three of the last four sandeel year-classes were above average.
The sandeel recruitment (2019 year-class) is historically strong.
The very strong 2016 year-class is still numerous.
A high level of zooplankton in the sea and in the sandeel stomachs have produced good individual growth.