New report addresses the impact of climate change on oceans
2019.9.30
In a press release from 25 September, European Commissioners welcome the UN report on the impact of climate change on oceans. The report has been made by the Intergovernmental Panel on Climate Change (IPCC) and it is described as a "wake-up call for the global community to tackle climate change and its impacts on oceans as soon as possible". It finds that human-induced global warming is drastically changing our oceans and that these changes are devastating for fragile marine ecosystems. Nonetheless, healthy oceans may provide solutions to the climate change as they can capture a great amount of the excess heat and CO2 as well as provide sustainable food and renewable energy.
The EU has already committed to cut of at least 40% in greenhouse gas emissions by 2030 under the Paris Agreement, and it is taking action to save the oceans through its Ocean Governance strategy. In addition, the Commission has also launched a Research and Innovation Mission on Healthy Oceans to deliver the solutions to preserve these precious eco-systems and sustain so many jobs worldwide.
You can find the press release here: https://europa.eu/rapid/press-release_IP-19-5869_en.htm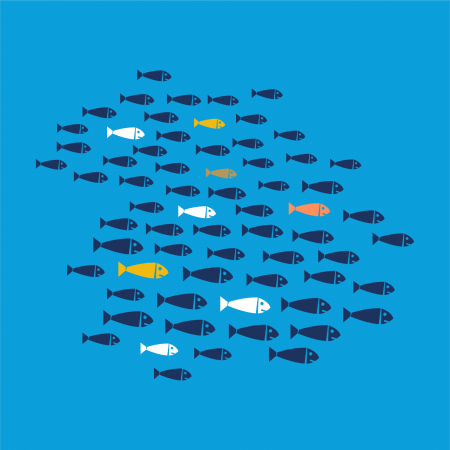 Invitation: Conference on improved fisheries management models
2019.9.26
The Nordic Marine Think Tank (NMTT) and EUfishmeal are delighted to invite you to a conference on Tuesday 8 October 2019 at 14.00-17.00 dealing with the findings of the recently finalised Fmsy project.
The conference will take place in Axelborg, Axeltorv 3, 1609 Copenhagen V, Denmark.
The Fmsy project, which was conducted in 2017-2019, shows that changing fisheries management models to take account of ecosystem interactions and density dependent factors can provide considerable increases in Fmsy values. Considering that these models can provide more reliable and accurate outcomes, they provide a much needed up-date for fisheries scientists and managers.
The Fmsy project has involved some of the world's best-known fisheries research capacities in biology and fisheries management from a range of North Atlantic countries.  The project has been undertaken with financing from the Nordic Council of Ministers, the European Maritime and Fisheries Fund and the Danish Ministry of Environment and Food as well as the Norwegian Fisheries Research Fund via IMR Norway.
The Fmsy estimates in the project can already now be used directly in the annual assessment and advisory process to guide managers, and the purpose of the Conference is to introduce this as a more correct basis for the management of the fisheries resources and to broaden the knowledge of ecosystem-based fisheries management.
Register by email to: nordiskmarin@gmail.com no later than Friday 4 October.
Draft Conference Program:
14:00 – 14:15
Welcome and Introductions. Anne Mette Bæk, GD EUfishmeal, and Carl-Christian Schmidt, NMTT Chair.
14:15 – 14:45
Introduction and Overview of the results of the Fmsy project –  Henrik Sparholt, Project Leader, and Petur Steingrund, Faroe Marine Research Institute
14:45 – 15:00
Views from the fishmeal sector by Johannes Palsson, President EUfishmeal
15:00 – 15:15
How ICES can take the results into consideration –[tbc].
15:15 – 15:30
What are the economic gains from changing fisheries management? Esben Sverdrup Jensen, Chair Pelagic Advisory Committee
15:30 – 15:45
A view from the Danish Fisheries Organisation. Michael Andersen, chief biologist Danish Fishermen's Association
15:45 – 16:00
How fisheries policy makers can help move the agenda forwards. Ole Toft, Danish Director of Fisheries.
16:00 – 17:00
Panel discussion with participants. Panel to consist of Mogens Schou, Poul Degnbol and [tbc] outlining a way forward for fisheries management.  Moderated by Anne Mette Bæk and Carl-Christian Schmidt

Conclusions and farewell. Anne Mette Bæk and Carl-Christian Schmidt
Background
The fish stock assessment models used around the globe to inform fisheries management generally do not account for ecosystem interactions. This results in an underestimation of the target fishing pressure (Fmsy). Ecosystem and multi-species research indicate that the bias in the Fmsy estimates could be substantial. This is expected to result in foregone sustainable yield and is unfortunate because an increasing global population is demanding more food and because fish products are healthy and have a low carbon footprint compared to most meat produced on land. It is also noted that well-managed fisheries are relevant for as many as 10 of the 17 United Nations Sustainable Development Goals for 2030.  The Fmsy estimates in the project have been developed so that they can be used directly in the annual assessment and advisory process to guide managers. The new Fmsy values are substantially higher and correspond to an almost 50% increase in fishing pressure. The full report from the Fmsy project is available here.
Article: Fishmeal sector short of raw material
2019.9.24
MEESO kickoff meeting
2019.9.18
EUfishmeal is partner of a new EU project on sustainable mesopelagic fisheries, MEESO.

Researchers are to look into whether organisms living deep in the oceans can be exploited in an ecologically and economically sustainable way
MEESO is an EU funded project which focuses on ecologically and economically sustainable mesopelagic fisheries. The EU H2020 research project (MEESO) has 19 partners from 10 European countries and it is coordinated by Institute Marine Research in Norway. The kickoff meeting will be held in Bilbao, Spain, from 24 to 26 September 2019. The kickoff meeting will be a joint meeting with SUMMER, another EU project funded to study the mesopelagic ecosystem. EUfishmeal is a partner of the project and will participate in the meeting.
Mesopelagic organisms live at depths between 200 and 1000 m. The mesopelagic community is the subject for research in the new EU-H2020 research project MEESO which is funded for four years. The goal is to fill in major knowledge gaps on these organisms and their role in and interactions with the full marine ecosystem.
The background to MEESO is the global human population growth causing increased demand for food, including marine proteins and lipids.
Mesopelagic organisms represent the largest unexploited resource left in the world's oceans, with a recent biomass estimate of around 10 billion metric tons, 10 times larger than previous preliminary estimates.
Nevertheless, our knowledge of the mesopelagic community in terms of biodiversity, the drivers of its biomass, its role in carbon sequestration, and its interactions with the epipelagic community, including commercial fish stocks, has major gaps. The main reason for these knowledge gaps is the lack of methods to observe and sample the relatively small organisms living at depths between 200 and 1000m.
Read about the MEESO project here: http://effop.org/projects/meeso/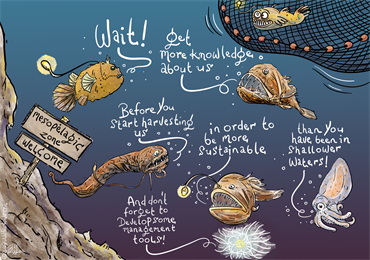 Drawing by Bas Kohler, source: ICES Journal of Marine Science
New report finds aquaculture to be a very sustainable source of protein
2019.9.13
The Coller FAIRR Protein Producer Index is available under "Publications" and can be found HERE.
You can read about aquaculture from page 67. In the report, aquaculture is among the most sustainable types of protein production based on a background of 30 different indicators including environment, climate, health and working conditions.
Coller FAIRR Protein Producer Index 2019
2019.9.13