New report shows great interest in more research in fishmeal and fish oil
2019.6.18
The new report "Nordic Centre of Excellence Network in Fishmeal and Fish oil" from 11 June 2019 seeks to summarise current knowledge on fishmeal and fish oil as well as to identify the research needs and create a roadmap for future industry-driven research. The report is written by a number of professionals in the field including EUfishmeal's managing director Anne Mette Bæk and chief biologist Søren Anker Pedersen.
It was found that the quality of raw material, fishmeal and -oil are not yet well-defined, and that the focus of the industry mainly has been limited to nutrients, such as proteins and fats and other components that make up fishmeal. Due to this focus, there has been less emphasis on the health benefits of dietary contents of fishmeal and -oil and the relationship between processing methods and the nutritional and technical properties of fishmeal. In addition, it is acknowledged that industry members are interested in moving forward to sustain the future growth of the industry. Fishmeal and fish oil production has been prosperous for a very long time, but for it to remain so, cooperation among all stakeholders is crucial for continued progress.
To read and download the report click here.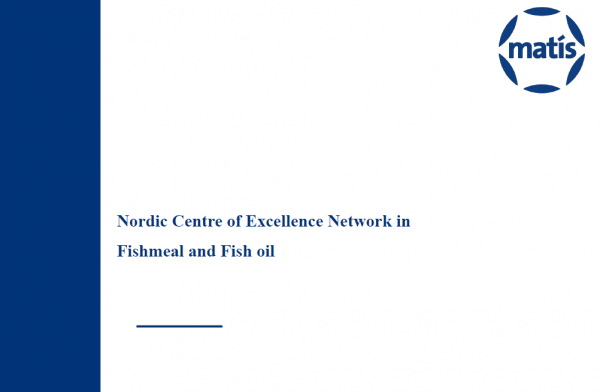 Nordic Centre of Excellence Network in Fishmeal and Fish oil
2019.6.18
EUMOFA: Fishmeal and fish oil analysis 2019
2019.6.7
EUMOFA is the European Market Observatory for Fisheries and Aquaculture which is a market intelligence tool on the European Union fisheries and aquaculture sector, developed by the European Commission. It aims to increase market transparency and efficiency, analyses EU markets dynamics, and supports business decisions and policy-making. EUMOFA enables direct monitoring of volumes, values and prices of fisheries and aquaculture products, from the first sale to retail stage, including imports and exports. Data are collected from EU countries, Norway, Iceland and from EU institutions and updated every day.
In April 2019, EUMOFA shared their monthly highlights about the sector, and you can find their highlights of the European production of fishmeal and fish oil here.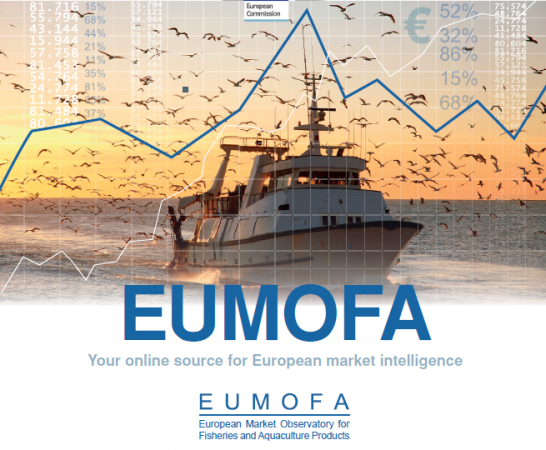 EUMOFA: Fishmeal and fish oil, analysis 2019
2019.6.7
Fish is the best way to feed the world
2019.6.4
Marine biologist and fisheries scientist Professor Dr. Ray Hilborn argues that eating fish is the best way to feed the world.
Small pelagic species have a very low carbon footprint and are therefore one of the most sustainable sources of protein – see the pictures below.
If you want to know more – watch Hilborn's webinar about the environmental cost of dinner – click here.
Hilborn's new book click here. From the OUPblog by Ray Hilborn:
"Ocean fisheries don't cause soil erosion, don't blow away the topsoil, don't use any significant freshwater, don't use antibiotics and don't have anything to do with nutrient releases, that devastating form of pollution that causes algal blooms in freshwater and dead zones in the ocean. After extensive studies, it turns out that some fish have the lowest green house gas footprint per unit of protein. Better even than plants. Sardines, herring, mackerel, anchovies and farmed shellfish all have a lower GHG footprint than plants, and many other fisheries come close."
The pictures below are from Hilborn's webinar – click here.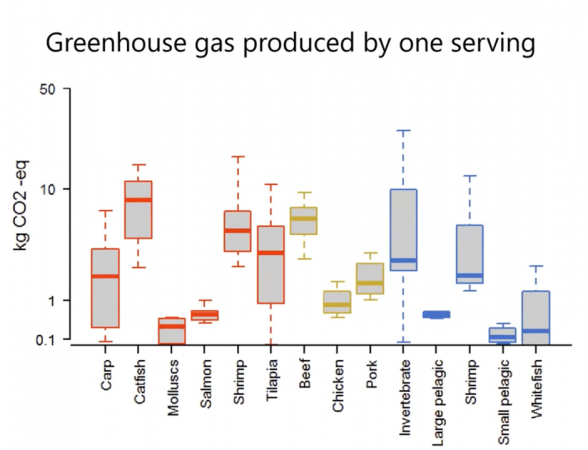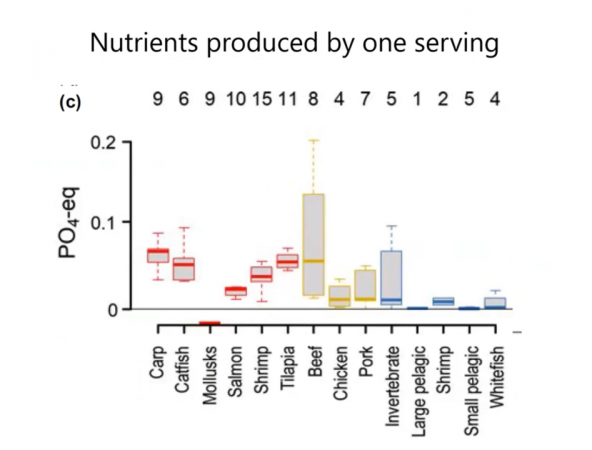 FMSY: Global fisheries catches can be increased after rebuilding of fish populations
2019.6.3