Exploitation of new underwater resources
2019.5.28
There are many fish deep in the oceans, and these fish can be exploited to help feed the world's growing population. This deep underwater area is called the mesopelagic zone. This zone begins where only 1% of light reaches and it ends where there is no light. The mesopelagic zone potentially contains several harvestable resources and it is estimated that this zone could hold a total fish biomass of approximately 2-19.5 gigatonnes. This number is about 100 times the annual catch of existing fisheries and these results can be found in the latest ICES Journal of Marine Science. The great number of mesopelagic species provides new opportunities for fisheries and for raw materials.
EUfishmeal is a partner of the MEESO project which aims to quantify the spatio-temporal distributions of biomass, production and ecosystem role of mesopelagic resources as well as to assess options to sustainably manage and govern their exploitation. According to ICES, it has for long been estimated that mesopelagic organisms such as fish and squid are potentially harvestable resources; however, there is a lack of knowledge on how to sustainably manage these mesopelagic resources. MEESO therefore needs to collect data in order to determine how the mesopelagic biomass can be sustainably exploited for products included in the human food chain.
Read more about the MEESO project here.
Read more about ICES' description of opportunities and risks in the mesopelagic zone here.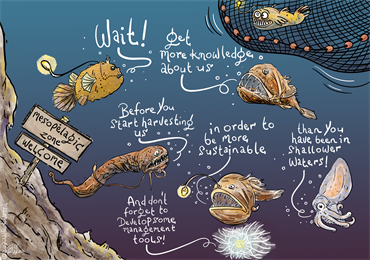 ​Drawing by Bas Kohler found on ICES.
Increased value of seafood
2019.5.10
According to a recent report by Rabobank, the global seafood trade has seen a steady yearly growth since 2012 to reach an estimated value of USD 153bn. While the volume traded has been somewhat consistent, the value has increased. This is caused partly by an increased demand for high value crustaceans and salmon – aquaculture products that demand quality fishmeal and fish oil.
In respect to trade volume whitefish is still the most traded commodity, mainly due to China's big export and import.
EU is still the largest importer of fish and shellfish in the world with an annual import value of more than USD 25bn and a production deficit of fish products of almost 6 million tons.  Salmon imports from Norway is the largest trade flow in the world in respect to value. On the other hand, a great part of EU's exports are fishmeal and fish oil to Norway.
On a global scale the biggest trade in volume is the export of fishmeal and fish oil from Peru to China, which helps to support the large aquaculture industry in China and Asia. Higher prices on fishmeal and fish oil has increased the value of this trade on a global scale.
Read more here.
Report: Rabobank Value Growth Global Seafood Trade May 2019
Map: Rabobank Seafood map May 2019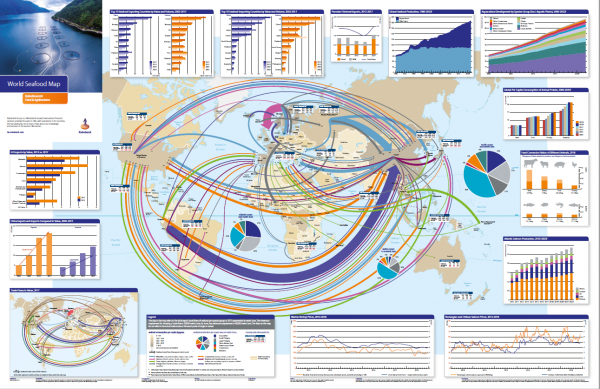 IFFO Madrid, May 2019
2019.5.8
Market Forum presentation by Anne Mette
Presentation IFFO_Madrid_2019_final