Increasing demand for marine ingredients as feed
2019.3.8
The inclusion of fishmeal and fish oil in feed is vital and any talk of removing marine ingredients in feed is "shortsighted" according to Enrico Bachis, market research director at IFFO. In March, IntraFish wrote that the demand for aquafeed is expected to grow from 14 million metric tonnes in 2000 to 65 million tonnes by 2020. Even though the percentage of fishmeal and fish oil in aquafeed has declined from 24 % to 7 % during this period, the great increase in demand for such feed ingredients implies that the use of fishmeal and fish oil in feed is vital.
In February, SeafoodSource posted an article about NWAA's (Northwest Aquaculture Alliance) board member and fish health expert Hugh Mitchell who believes that "Aquaculture is being unfairly demonized." He speaks in favour of fish farming and has said to SeafoodSource: "I think aquaculture is the key to saving the aquatic ecosystems. It's not a threat by any means." With the expected growth in aquaculture, it is time to acknowledge the positive effects of aquaculture and its important contribution to feed a growing global population, as well as the need for fishmeal and fish oil as important feed ingredients to meet this demand.
Read more here:
From IntraFish: IFFO: It's 'shortsighted' to remove fishmeal entirely from feed
From SeafoodSource: NWAA's Hugh Mitchell: Aquaculture is being unfairly demonized

Discardless – strategies for the gradual elimination of discards in European fisheries
2019.3.1
The EU funded project Discardless successfully looks at how we can ensure that all fish caught be fishermen are landed and utilized. The production of fishmeal and fish oil effectively makes use of all fish resources and side streams to produce marine protein and oils and our members are always open for additional sources of raw material.
Read more about the project on: http://www.discardless.eu/home/presentation/landing-obligation-2019-what-have-we-learned-what-are-the-next-steps-update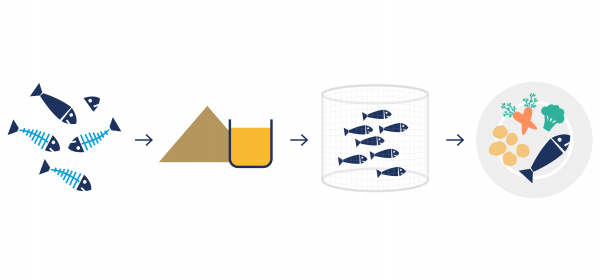 Factors affecting cross-border investments in EU aquaculture
2019.3.1
EUMOFA (the European Market Observatory for Fisheries and Aquaculture Products) has published their new study "Factors affecting cross-border investments in EU aquaculture" in January 2019. The study gives an outline of the investments made in aquaculture farms by the different EU members to show the extent of cross-border investments, and it recognizes the factors which influence such investments. The study finds that it can be difficult to find financing of aquaculture businesses due to a lack of knowledge among banks.
One important barrier is licensing and regulations at local, regional, national and international levels. It impacts both local and cross-country investments, and can also affect the possibilities to find a suitable aquaculture production location. Other obstacles are the physical equipment for production, knowledge about aquaculture production and the impact on the environment. It can also be challenging to find workers with the right skills.
In order to facilitate cross-border investments, a list of recommendations is given at the end of the study. These include an easier and more predictable licensing process and that the marketing efforts for aquaculture are strengthened. The study also recommends that the industry specializes in a few species to improve competitiveness, and finally it emphasizes the need to create awareness about the sector among financial institutions to lower their barriers to invest in the industry.