EU's climate change strategy and marine resources
2018.11.30
EUfishmeal welcomes EU's new climate change strategy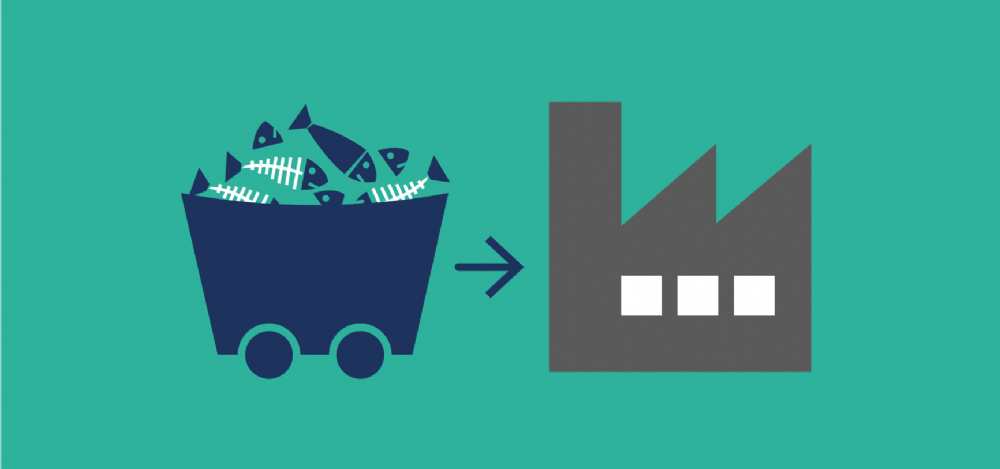 Globally, more than 190 countries have pledged to reduce greenhouse gas emissions in order to pursue the goals of the Paris Agreement. Furthermore, the EU has set its own climate action targets and the EU Commission has made a long-term strategic vision to achieve a "prosperous, modern, competitive and climate neutral economy". Its objective is to reduce the emission of greenhouse gasses by 80-95 % before 2050 compared to 1990.
In the new European vision from November 2018, aquaculture is categorised as a non-CO2 emitting sector It is recognized that less land requirements are needed to produce a given amount of protein from aquaculture than for other sources. As changes in diet could reduce emissions there is a desire to increase the human intake of seafood. For this to happen, the Commission suggests that there is a need for a shift toward a more sustainable aquaculture. At EUfishmeal, we welcome an improved and more sustainable productivity of aquatic and marine resources.
Along with increased sustainability, the EU aims to transition towards a circular economy with a high level of resource efficiency where the entire production process works to reduce emissions. This can e.g. be done through improved management of waste.
The production of fishmeal and fish oil is a good example of this. For us, the waste materials from the fish processing industry is a valuable resource.
It is acknowledged that an improvement of aquatic and marine resources is of great importance for the bio-economy for tackling climate change as they can supply new sources of protein and help reduce the pressure on agricultural land.
EUfishmeal workshop on knowledge of fishmeal and fish oil
2018.11.17

Workshop in Fishmeal and Fish oil
Axelborg, Axeltorv 3, Copenhagen, Denmark
14-15 November 2018
Background and outcome of the workshop
The workshop was organized by the Nordic Centre of Excellence Network and hosted by EUfishmeal.
Because of changes in markets and demands, there is an urgent need for improved knowledge about the nutritional value which fishmeal and fish oil can provide in the feed industry so as to increase the value of these commodities. In order to facilitate and strengthen the Nordic cooperation and bioeconomy, a Nordic Centre of Excellence in Fishmeal and Fish oil was established in 2018 with support from the Nordic Council of Ministers.
For more information about the Nordic Centre of Excellence Network and its background please click here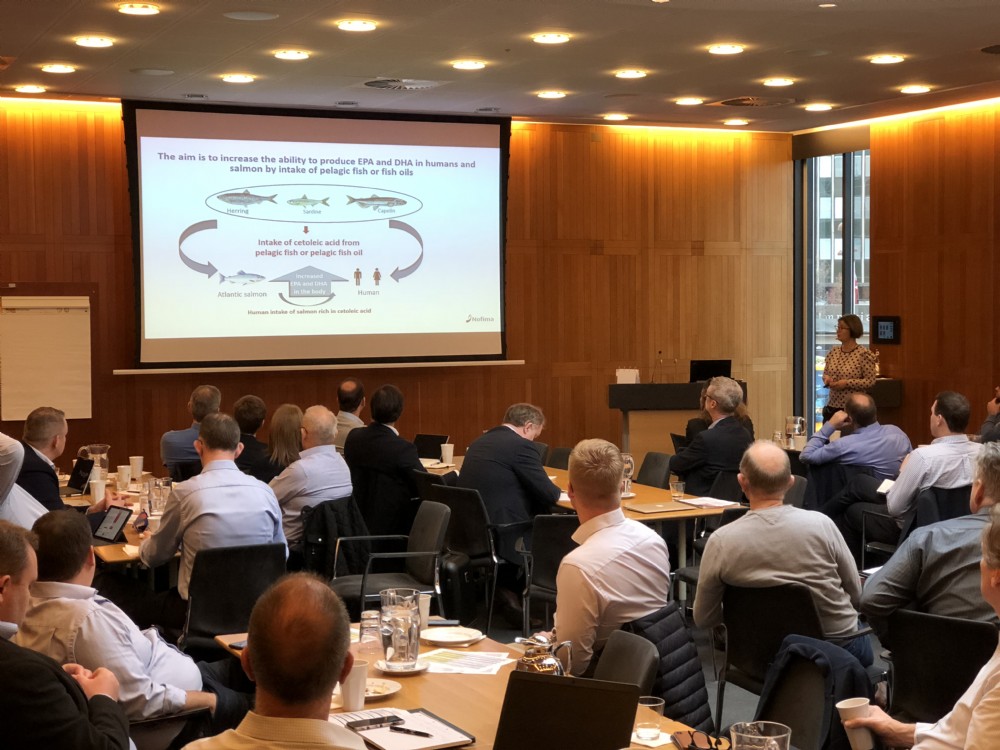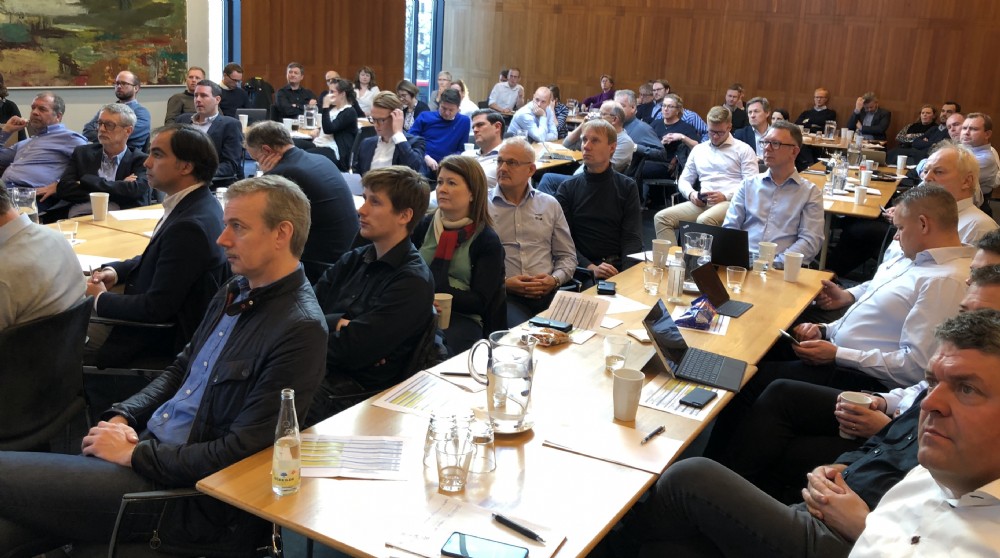 The workshop was successful with 75 participants from several European countries.
Researchers, producers, salesmen and customers presented current knowledge in five sessions on raw material quality, production, analytical methods, preservation and final products. After each session research needs were discussed. The last part of workshop included group discussions and a final panel discussion.
The outcome of the workshop will be summarized in a report which will be published at this webpage as soon as possible.
Workshop program

(to see a presentation click at the title in the program)
November 14th
INTRODUCTION
Chair Jóhannes Pálsson, EUfishmeal
12.30: Registration
13.00: Welcoming address, Jóhannes Pálsson, EUfishmeal
13.05: Where are we today, Anne Mette Baek, EUfishmeal
13.25: Market status – Current markets, new challenges, Jon Tarlebo, Norsildmel, Norway
RAW MATERIAL
13.45: Different raw material for fishmeal and fish oil production, Charlotte Jacobsen, DTU Food, Denmark
14.05: Handling of raw materials from sea to production side, Marvin Einarsson, Matís, Iceland
14.25: Effect of raw material quality and characteristics on the quality of final products, Guðrun Svana Hilmarsdóttir, University of Iceland, Iceland
14.45: Coffee break
PRODUCTION OF FISHMEAL AND FISH OIL
Chair Odd Eliassen, Havsbrun, Faroe Islands
15.05: Processing methods, Peder Fosboel, Haarslev, Denmark
15.25: Quality control and assurance, Klaus H. Kristoffersen, FF Skagen, Denmark
15.45: Effect of production method on the technical properties of fish meal intended for feed production, Tor Andreas Samuelsen, NOFIMA, Norway
16.05: Production of fish protein and fish oil for human consumption, Charlotte Jacobsen, DTU Food, Denmark
17:30-20:00 Dinner
November 15th
ANALYTICAL METHODS: Current and new methods
Chair Pedro J. Garcia Moreno, DTU Food, Denmark
09.00: Chemical methods, Charlotte Jacobsen, DTU Food, Denmark
09.20: Rheology, Tor Andreas Samuelsen, NOFIMA, Norway
09.40: NIR, Jakob Dan-Winther, Q-Interline A/S, Denmark
10.00: Cetoleic acid makes pelagic fish more healthy, Bente Rutyer, NOFIMA, Norway
10.20: Coffee break
PRESERVATION METHODS THROUGHOUT THE VALUE CHAIN
Chair Marvin Einarsson, Matís, Iceland
10.40: Raw material, Tor Andreas Samuelsen, NOFIMA, Norway
11.00: Fishmeal, Neil Auchterlonie, IFFO
11.20: Fish oil, Charlotte Jacobsen, DTU Food, Denmark
11.40: Lunch
FINAL PRODUCTS – KEY/DESIRABLE PROPERTIES OF VARIOUS FINAL PRODUCTS
Chair Charlotte Jacobsen, DTU Food, Denmark
12.40: Requirements for various final products produced from fishmeal, Ola Flesland, TripleNine, Denmark
13.00: Fishmeal and fish oil for aquaculture feed – Nutritional quality, Alfred Jokumsen, DTU Aqua, Denmark
13.20: Fishmeal for FEED – Physical quality effects, Tor Andreas Samuelsen, NOFIMA, Norway
13.40: Customer Requirements, Irma Schrijver, AFB International
14.00: Coffee break
SUMMARY AND DISCUSSION
Chair Sveinn Margeirsson, Matís, Iceland
14.15: Group discussions
15.00: Panel discussion
16.00: End of seminar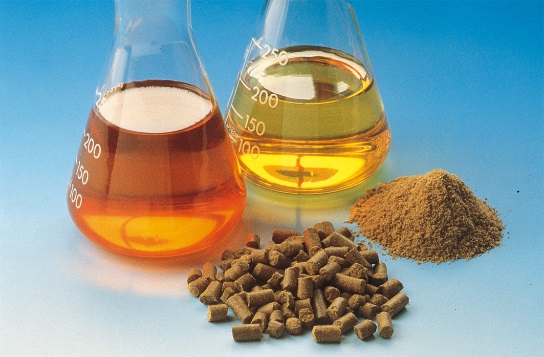 Insects for food and feed
2018.11.7
EUfishmeal director Anne Mette Bæk was happy to participate in the Annual conference of The International Platform of Insects for food and feed as a speaker and participant in a roundtable discussion in the session: Synergies and complementary benefits of various alternative sources of protein.
European fishmeal and fish oil plants produce 530,000 tonnes of fishmeal and 160,000 tonnes of fish oil yearly. With about 1,000 tonnes of insect protein so far commercialized by European insect for use in aqua feed producers since the authorization of insect proteins the two sectors have very different production volumes.
The sectors have some synergies regarding political and regulatory issues as producers of animal protein and it is helpful for both sectors to keep a close dialogue and cooperation.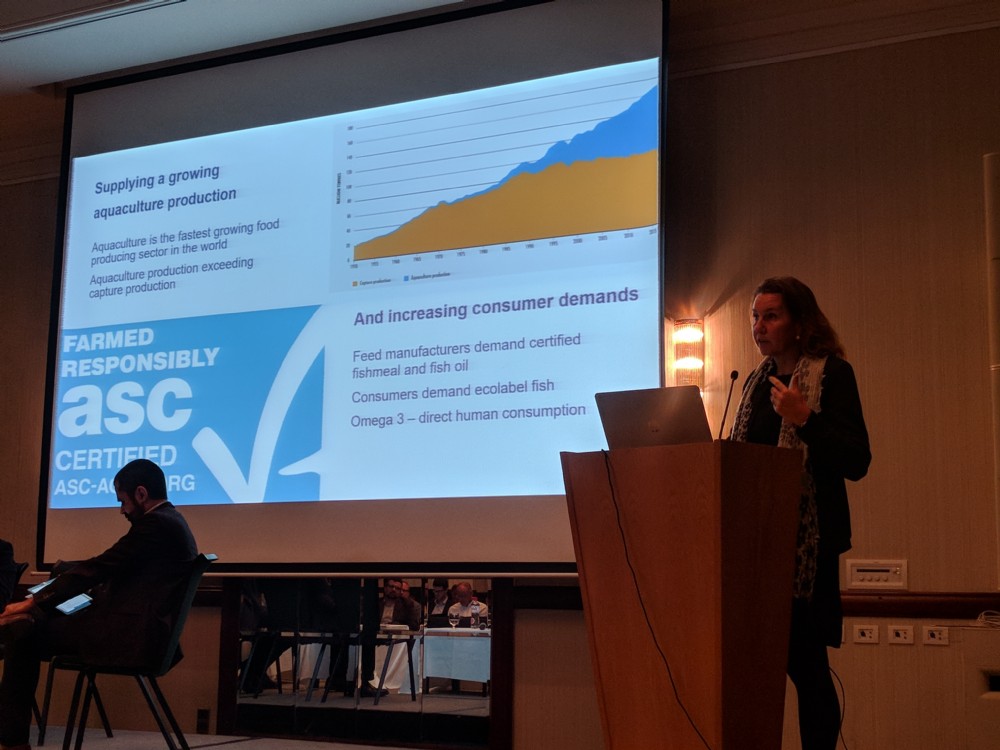 FAO Impacts of climate change on fisheries and aquaculture
2018.11.1
The Food and Agriculture Organization of the United Nations (FAO) recently published a short report called "Impacts of climate change on fisheries and aquaculture", which is a summary of the FAO Fisheries and Aquaculture Technical Paper 627. The report is a synthesis of current knowledge, adaptation and mitigation options in response to climate change and fisheries and fish production.
In general, the report states that warming of the ocean is occurring globally, but appears to be "more prominent in the Northern Hemisphere, especially the North Atlantic". With increasing temperature follows uncertainty in primary production, as accompanying acidity changes impact the shell formation of copepods. The change in ecosystems along with the change in water temperature likewise appear to shift the geographical distribution of fish stocks and "shifts in the distribution of species of fish of importance to fisheries are one of the most widely recognized and acknowledged impacts of climate change on the oceans".
Changes in temperature could also influence the frequency and intensity of large scale climate events such as El Niño that has significant consequences for the fishmeal and fish oil market.
In response to aquaculture, which is the business responsible of the largest demand for fishmeal and fish oil, the verdict of climate change is more uncertain. While the marine aquaculture in Norway and Chile are deemed more vulnerable, due to things as potential production loses and increases in frequency of diseases and harmful algae, other parts of the world may experience more favorable conditions.
The report concludingly recommends that the complexity of climate change should be recognized and adapted in decisions regarding aquaculture and fisheries to ensure that the sector is continuing to contribute to meeting the global goals of food security.
Read the report here.