EUfishmeal conference 2015
2015.9.9
Photos from the conference in Iceland
Minutes General Assembly and Executive Board Meeting 2015
2015.9.5
EUfishmeal member conference 2015, Iceland
EUfishmeal held its member conference August 26-29 2015 in Westmannaeya, Iceland.
With participation of more than 130 representatives the conference was very successful.
The minutes from the General Assambly can be seen HERE
EUfishmeal conference 2015, Iceland
2015.9.1
EUfishmeal held its member conference August 26-29 2015 in Westmannaeya, Iceland. With participation of more than 130 representatives the conference was very successful.
Participants to the conference heard presentations from various experts on technical issues, fisheries management, fisheries advice and sustainability, and had visits to various Icelandic fishmeal and fish oil plants:  HB Grandi, LYSI ltd and Isfelag.
At the Annual General Assembly, held in connection with the conference, Norway was welcomed as a new member to EUfishmeal. Johannes Palsson, FF Skagen, was re-elected as president and Frank Trearty, United Fish Industries, was re-elected as vice-president.
The next member conference will take place in September 2017 in Ireland
The full program can be seen here: PROGRAM ANNUAL MEETING 2015, ICELAND
(watch more pictures below)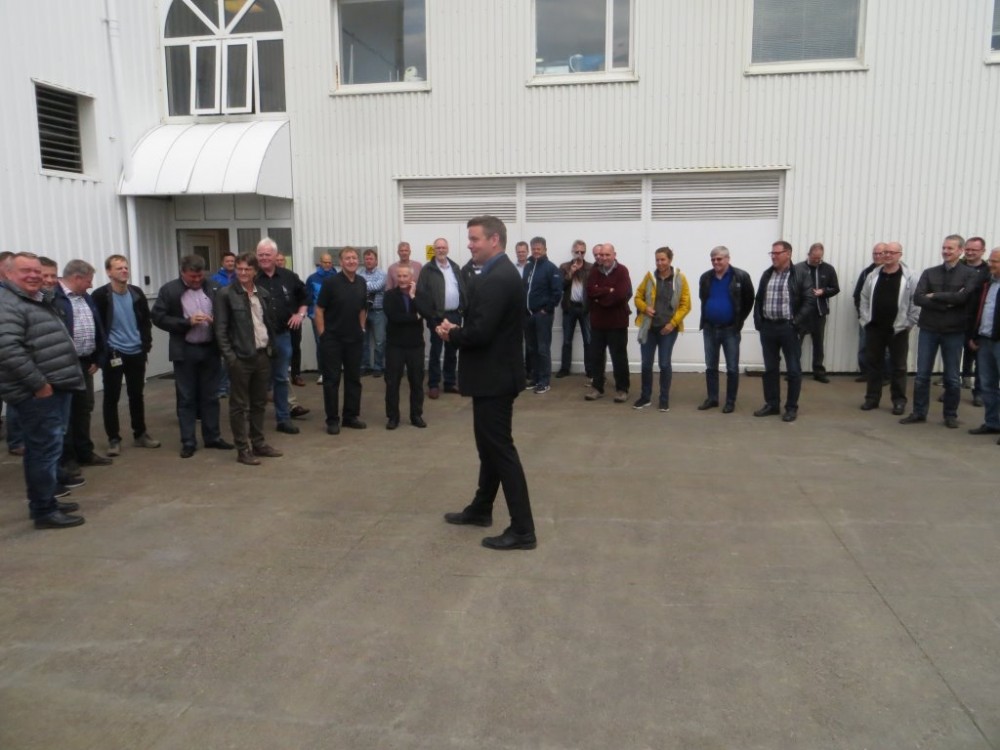 Speakers biography
The Icelandic fishmeal industry and its development under an ITQ management system
Adjunct Hörður Sævaldsson, University Akureyri
Hörður holds a B.Sc. in Fisheries Sciences from University of Akureyri and M.Sc in Banking and finance from University of Stirling Scotland.
Hörður is an adjunct at University of Akureyri and teaches several courses within the Fisheries Sciences study. He supervises fishing gear technology and general course on Icelandic fisheries.
GO TO PRESENTATION-SLIDES HERE
Iceland responsible fisheries
Project Manager Hrefna Karlsdóttir, IRF
Hrefna is Fil. Dr. in Economic History from Göteborgs Universitet and former employment at the Ministry of Fisheries and Directorate of Fisheries.
Presentation of National Facility for Marine Bioprocessing in Norway.
R & D Manager Ragnhild Whitaker, NOFIMA
Ragnhild has a PhD in chemistry from Tufts University. Ragnhild works as a research manager for the Marine Biotechnology group at Nofima. The group focuses on development of new technologies and products derived from marine biomass. The research is targeted towards the identification, extraction and production of high-value products taken from laboratory to industrial scale in a step-wise process.
GO TO PRESENTATION-SLIDES HERE
Balanced harvesting in fisheries – the inverted food pyramid
Associate professor Jeppe Kolding, University of Bergen
Jeppe holds a Doctor Scient. Degree from 1994 in Fisheries from University of Bergen. He is specialized in small-scale fisheries in developing countries and the ecology and exploitation of fish in fluctuating tropical freshwater systems. His primary research interest is fish stock assessment, ecology, harvest strategies and management of small-scale tropical fisheries. He has been a member of the IUCN/CEM Fisheries Expert Group since 2008, where he initiated the work on 'Balanced harvest'.
GO TO PRESENTATION-SLIDES HERE
Overview of the EUfishmeal industries
Frank Minck, EUfishmeal
Frank holds a M.Sc in Marine biology.He has worked in aquaculture breeding of turbot, trout, grass carps and culture of eels in recirculated systems. Since 1989 Frank has worked for Marine Ingredients Denmark and EUfishmeal.
GO TO PRESENTATION-SLIDES HERE
Pelagic stocks in the North Atlantic
Head of Marine Resources Section Þorsteinn Sigurðsson, MRI
Thorsteinn  is head of Marine Resources Division at the Marine Research Institute in Reykjavík. He is a fisheries biologist with background in acoustic as tool for assessment of fish stocks. Thorsteinn has participated in numerous assessment working groups meetings within ICES and  NAFO and he has also been involved in work of North East Fisheries  Commission  (NEAFC) longer than he remembers. Furthermore, he has been scientific advisor in numerous coastal states consultations on pelagic stocks for almost 20 years.
Electrification of the Icelandic fishmeal plants
Manager Jóhann Andersen, FIF, the Icelandic Fishmeal Association
Cand. Econ. from University of Iceland 1971. Johann has since 1978 worked as a CEO of several fishmeal factories and has since 2006 been the CEO of The Icelandic Fishmeal Association.
GO TO PRESENTATION-SLIDES HERE
Energy savings and mini production plant at Hedinn
R & D Manager Gunnar Pálsson, Héðinn
He is educated as a Machine Engineer at Aalborg University, and a Ms. Diploma at the Marin Engineer School of Iceland. Since 2005 he has been shareholder and member of the board of Hedinn hf.
GO TO PRESENTATION-SLIDES HERE
Mini production plant
Support Engineer, Birgir Karl Finnbogason, Haarslev Industries A/S
Educated in 1996 as mechanical engineer in Denmark. Working at Haarslev Industries from 1997 as Support Engineer.
GO TO PRESENTATION-SLIDES HERE
Industrial emissions. EU revision of BREF documents for the fishmeal industry
Anne Mette Bæk Jespersen, Head of secretariat EUfishmeal
GO TO PRESENTATION-SLIDES HERE
GO TO PRESENTATION-SLIDES HERE (niras – bref)
Fishmeal for the future/the good story about fishmeal
Søren Anker Pedersen, Chief Advisor EUfishmeal
GO TO PRESENTATION-SLIDES HERE
Current and future use of byproducts
General manager Bodo von Holten, Bioceval GmbH & Co. KG
He has a Bachelor of Engineering Degree in Milk and dairy products. Since 2002 Bodo has been the General Manager of "Vereinigte Fischmehlwerke Cuxhaven". In 2015 VFC has overtaken the name "Bioceval".
GO TO PRESENTATION-SLIDES HERE
Pictures